This post is for all of my Florida wedding vendor friends :)
Wedding magazine, Get Married, former editor-in-chief, Stacie Francombe, is hosting an incredible event that is perfect for any wedding vendors out there who are ready for new business-branding! Get ready to be inspired and learn new directions that could be helpful with your business :) Stacie is a good friend of mine through Social Network, and you may remember me working with her for Get Married's national wedding contest. My pictures from the event can be seen everywhere in the media outlet--from online to TV news. Those same pictures were also featured on the Get Married's website for awhile and were even printed on the 2011 Spring issue of the magazine :) So thankful for that opportunity, and I am honored to share Stacie's event with you :)
Click HERE to find out more about the Inspire.Smart.Success.Experience event down in Orlando next month!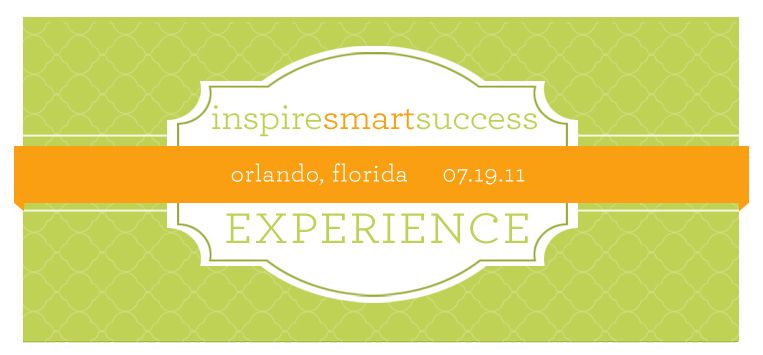 Check out Inspire.Smart.Success.Experience's
official Press Release below!
Nationally Renowned Wedding Media Expert Stacie Francombe
Launches Small-Business Mentoring Program
Francombe to Host 'Inspire Smart Success Experience' in Orlando, Florida from July 18-19
Atlanta, GA – June 8, 2011 – Stacie Francombe, wedding media entrepreneur and founder of Get Married, has officially launched her newest venture, the Inspire Smart Success Experience. ISSE is a two-day event geared toward providing small business owners and wedding professionals with the tools and inspiration needed to grow their own successful company.
The first evening of the Experience focuses on networking, with Francombe and other industry professionals gathering for a stimulating welcome cocktail party. The second full day features a panel of motivating celebrity speakers drawing on personal experiences to offer guidance to participants on how to create and maintain a successful business. As a former Editor-in-Chief of a national bridal magazine and TV host, Francombe moderates discussions while providing invaluable insider information to assist businesses achieve optimal media exposure on TV, online and in print. Topics of discussion also cover social media tactics and how to most effectively implement business branding.
"The program involves a series of exciting events to help professionals gain insight into booking new business and growing their brand," says Inspire Smart Success Founder Stacie Francombe. "We all want to grow our companies, book more business, and make more money. It's important to learn brand-raising techniques and jaw-dropping strategies on how to get your business to stand out and get noticed. Positioning yourself as an expert on television, print, and online can change your business overnight. Inspire Smart Success gives you the tools you need to think smart on your journey to success."
To reach as many small business owners as possible, the ISSE will be traveling to other U.S. cities this year. The next event will be held in Orlando, Florida on July 18-19 at the Waldorf Astoria-Bonnett Creek. Additional engagements will be held in New Jersey, St. Louis, Miami, Los Angeles and Philadelphia, as well as an international stop in Riviera Cancun, Mexico. For small business owners who wish for a more personal experience, Francombe offers one-on-one mentorship opportunities.
About Stacie Francombe
Stacie Francombe is an entrepreneur, TV host, author, business mentor, motivational speaker, and expert social media strategist. She was the visionary behind the publication Get Married, growing the company into a nationally recognized online wedding planning resource, while connecting brides and vendors through three media platforms – online, television, and magazine. During her time with Get Married, Stacie developed and served as Executive Producer for the television shows Get Married with David Tutera and Get Married with Colin Cowie, then became the on-air host in its final season on WeTV and Wedding Central. She is a highly sought-after public speaker and industry insider, addressing wedding professionals and brides around the country and appearing on several stations including CNN, Fox, and WABC. Stacie is also a founding member of the national non profit organization, Wish Upon a Wedding. She is currently authoring her first book that is due for release later this year.
For more information on the Inspire Smart Success Experience, visit
www.InspireSmartSuccess.com
.