Yay, Jamie and Adam are married!! They had such a beautiful ceremony and reception at The Main Public Library in Downtown Jacksonville :) You may remember them from their University of Florida Gators engagement session last Fall. Jamie and Adam definitely wanted to incorporate blue and orange at their wedding, but instead of choosing the "Gator" blue, they chose turquoise instead :) I'm loving Jamie's bridesmaids dresses! Very classic yet has that springy feel to it.
It was great seeing a couple of familiar faces in Jamie's bridal party. One of them was our lovely bride back in November, Kelly, and the other one is our mutual good friend, Kim. Bobby and I had a great time at their wedding and getting to know their families and other friends. Jamie and Adam sure like to party. After all, the first time Bobby and I met them was when we were dancing at a club! :)
Congratulations Jamie and Adam!!! We wish you nothing but the best in life :)
XOXO
-->>CLICK HERE FOR THEIR FUN SLIDESHOW :-D
-->>CLICK HERE FOR THEIR FUN SLIDESHOW :-D

Gator chomp!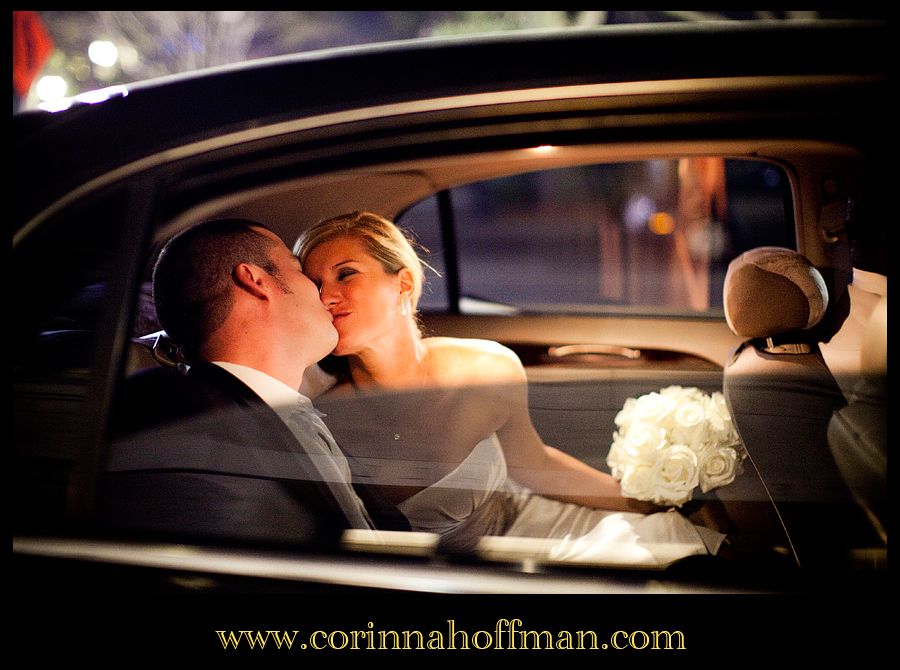 JAMIE & ADAM'S LOVE STORY
- How did you guys meet?
We met at an UNF event at the bowling alley.
- Describe the proposal:
Adam and I were on our way to dinner when he told me he had to stop by Epping Forest to take some pictures for work. We walked around the gardens and he told me to stand in front of the fountain to take a picture. After he took the picture he got down on one knee and asked me to marry him.
- What is your favorite thing to do on your date night?
Dinner then snuggle watching a movie at home.
- What do you love about him so much?
I love that he is outgoing and loves to have a good time. Can't wait to spend my life with him!
- What do you love about her so much?
She is the most beautiful, loving, and caring person I know. I look forward to being her husband.
- What is your wedding invitation like and where did you go to get it done?
They are turquoise and orange with our initials on the front. We ordered them from a shop in Tampa, FL called "Not From a Box."
- What are your wedding colors and why did you guys choose that color palette?
Our wedding colors are turquoise and bright orange. We chose these colors mainly because we are huge FL Gator fans but wanted something a little different. : )
- Describe your wedding cake:
It's a 4 tiered cake with a textured design with turquoise ribbon around the bottom on each tier and orange roses on the top. Three layers of the cake is yellow cake with raspberry filling and the fourth layer is chocolate cake with peanut butter filling.
- Describe your wedding flowers:
We're doing a mix of bright orange and white flowers consisting of roses, hydrangeas, and gerber daisies.
- What is your First Dance song, Father/Daughter song, and Mother/Son song at your wedding reception?
First Dance- You and I by Michael Buble
Father/Daughter- Isn't She Lovely by Stevie Wonder
Mother/Son- Your Song by Elton John
- Where did you go for your honeymoon?
We went to the Sandals Resort in St. Lucia.
- What are you looking forward to in the future together?
We are looking forward to a very long healthy marriage and starting a family together.
THEIR WEDDING INGREDIENTS:
Ceremony Location: Main Library Downtown Jacksonville
Reception Location: Main Library Downtown Jacksonville
Caterer: Mai Oui
Wedding Coordinator: Zoe Gallina Event and Styling Coordination
Cake: Publix
Florist: Botanica International Design Studio
Officiant: David Tarkington
Hair: Shannon Hogg
Make-up: Paulina Perez
Entertainment (DJ): Inspire Entertainment
Wedding Dress: James Clifford
Bridesmaids Dresses: Alfred Angelo
Groom and Groomsmen Wear: Men's Wearhouse